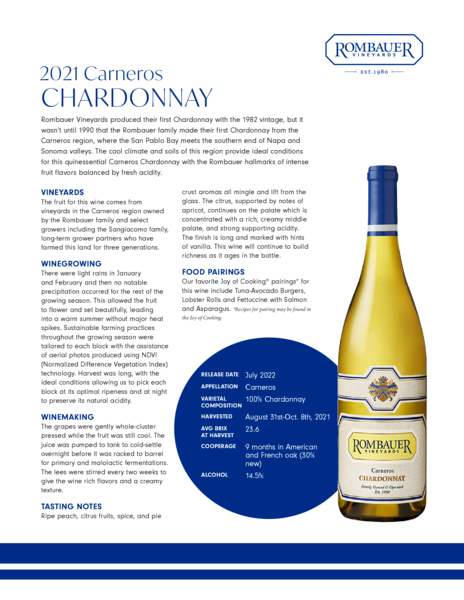 As someone who has tried and savored many different types of Chardonnay, I can confidently state that Rombauer Chardonnay is truly exceptional. Its velvety, creamy texture coats the palate, leaving a distinct but slight minerality on the tongue.
Produced from grapes grown in the cool climate of the Carneros region, which is heavily influenced by the nearby San Pablo Bay, this wine has a refreshing acidity and a gold-standard taste.
The wine's perfectly balanced flavor profile offers tantalizing hints of creme brulee and other delectable notes, making it a favorite Chardonnay for Chardonnay enthusiasts like myself.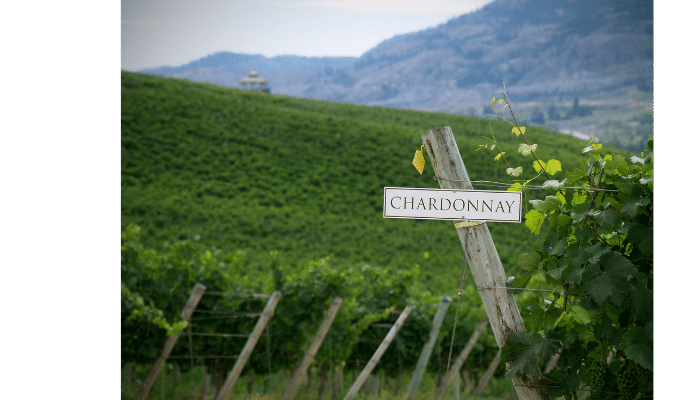 The Chardonnay Grape
Chardonnay is a grape variety that has earned a reputation as one of the most versatile white wine grapes in the world. This grape has a long and storied history, with origins dating back to the Burgundy region of France, where it was first cultivated in the Middle Ages.
Over time, the grape has spread to different regions of the world, and now it is a fruit grown in many different countries.
One of the regions where Chardonnay has thrived is Napa Valley in California on farms owned by select growers including the famous Sangiacomo Family.
This region is renowned for producing some of the world's finest wines, and the Rombauer Carneros Chardonnay is a standout example.
The vineyards in Napa Valley provide ideal growing conditions for Chardonnay, with warm, sunny days and cool, foggy nights that help to maintain the grape's acidity and balance.
Chardonnay is a grape that can be transformed into a diverse range of styles, from light and crisp to full-bodied with hints of butter.
The winemaker's preference and creative touch can influence the style of the wine. Chardonnay can be fermented in stainless steel tanks, oak barrels, or a combination of the two. The type of fermentation vessel used can have a significant impact on the wine's flavor and texture.
Chardonnay's flavor profile can range from fresh green apple, citrus, and pear to tropical fruits like pineapple and mango. The wine can also have hints of vanilla, butter, and oak, depending on the winemaking style. The grape's versatility and adaptability have made it a favorite among winemakers and wine lovers alike.
Rombauer Vineyards
To truly understand and appreciate the excellence of Rombauer Chardonnay, one must delve into the rich history of Rombauer.
The story began when Koerner and Joan Rombauer, after Koerner's successful career in the aviation industry, relocated their family from Texas to St. Helena in 1972. They acquired 40 acres of land, and their foray into the world of wine began.
With a desire to learn every aspect of winemaking, the couple first invested in Conn Creek Winery as partners. After mastering the art of winemaking, they sold their stake in Conn Creek and founded Rombauer Vineyards in 1980.
It's little known that the grapes used for their first vintage were actually purchased from other growers, and the initial wine was made in a rented facility and in their garage, which was bonded as a winery at the time.
However, this was only until construction on their magnificent new winery was completed.
In 1984, Rombauer released their first commercial vintage, a 1980 Cabernet Sauvignon and a 1982 Rombauer Chardonnay, which were sold for an incredible $12.50 each.
From humble beginnings to global success, the story of Rombauer is a testament to the passion, perseverance, and dedication of the Rombauer family.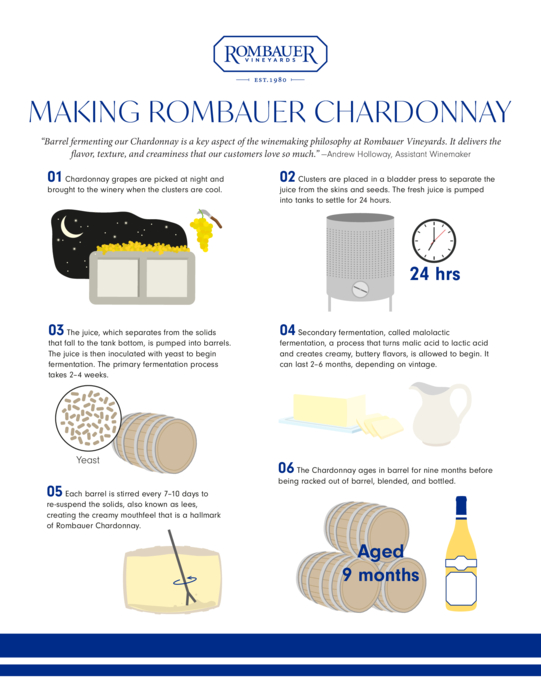 How the Rombauer Carneros Chardonnay is Made
The grapes for the Rombauer Chardonnay are grown in Los Carneros where the influence of the San Pablo Bay allows the fruit to ripen perfectly and give it that signature lively acidity.
Rombauer ferments the chardonnay in oak barrels and goes through a process known as sur lie aging. Sur lie aging is a laborious process in which the wine is kept in contact with the yeast lees and regularly stirred by hand. Stirring the lees takes a lot of extra time but it is important.
Listen to my interview with Richie Allen, VP of Viticulture and Winemaking, talk about what goes into making the famous Rombouer Chardonnay.
Sur Lie Aging
The sur lie aging is said to create a rich mouthfeel and a smooth, creamy texture on the palate. This Chardonnay also goes through full malolactic fermentation or secondary fermentation which helps develop some of its signature characteristics.
The wine is allowed to age for nine months in a combination of French and American Oak Barrels which help give it that hint of vanilla and freshly baked pie crust. This lengthy aging process results in a robust and well-rounded flavor.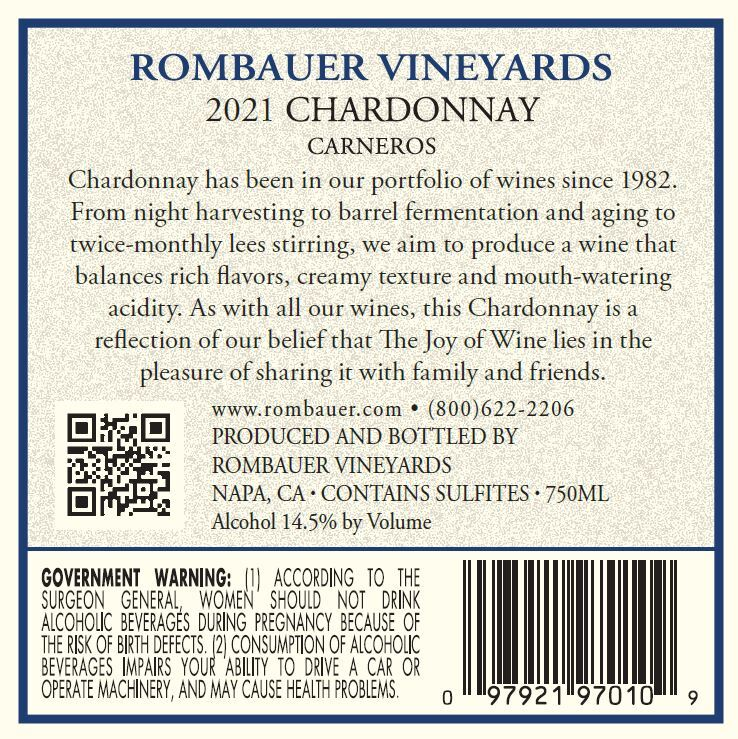 Rombauer Chardonnay Tasting Notes
On the nose, Rombauer Chardonnay boasts aromas of fruit like pear and citrus, while the palate is filled with tropical fruit flavors of ripe yellow peach, mango, citrus and subtle spice.
The wine is fermented and aged in oak barrels, sur lees aged, and undergoes malolactic fermentation, giving it a smooth, buttery finish and round mouthfeel.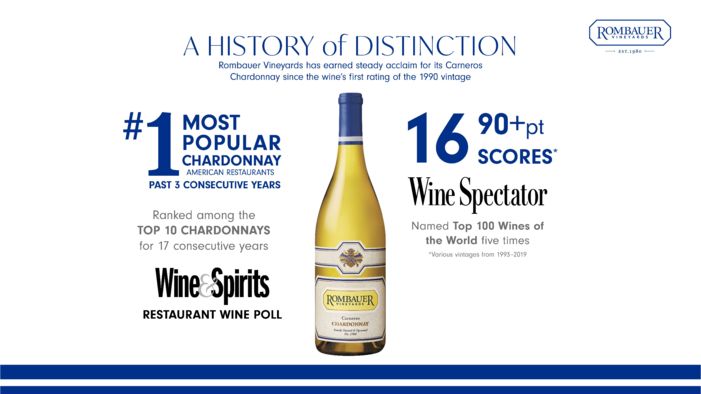 Awards and Accolades
The Carneros Chardonnay is an excellent wine so it's no surprise that it has received numerous awards and accolades over the years. The wine consistently receives high ratings, with an average rating of 92/100 from Wine Spectator.
Recently, the 2021 vintage was recently awarded 92 points by Wine Spectator and Wine Enthusiest.
Where to Purchase Rombauer Chardonnay
Due to its popularity, you can find bottles of Rombauer Chardonnay at most stores and restaurants, and it's also available for purchase on the Rombauer Vineyards website. While the price point may be higher than some other Chardonnays, the wine is worth every penny.
If you haven't yet enjoyed Rombauer Chardonnay, I highly recommend giving it a try. Whether you're enjoying it with friends on a night in or pairing it with a delicious meal, Rombauer Chardonnay is sure to impress.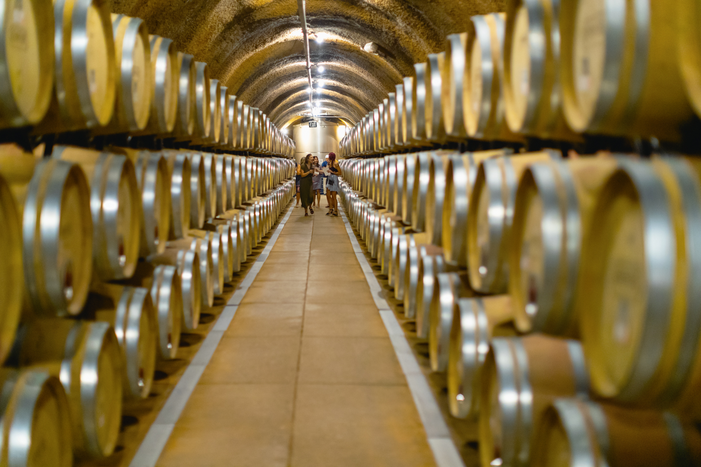 The Rombauer Experience
One of the things my wife and I love most about Rombauer Vineyards is their commitment to sustainable winemaking practices. The winery has implemented a number of green initiatives to reduce its environmental impact, including the use of solar power and recycled water.
I had the opportunity to work the 2021 harvest at Rombauer Vineyards where I learned first hand the importance of balancing sustainability and making great wine.
Visiting Rombauer Vineyards is also a wonderful experience. The winery has two tasting rooms that offer tastings, tours, and even private events, where you can enjoy their wines in a beautiful setting. It's clear that the Rombauer family takes great pride in their winery and their wines, and that passion shines through in every bottle.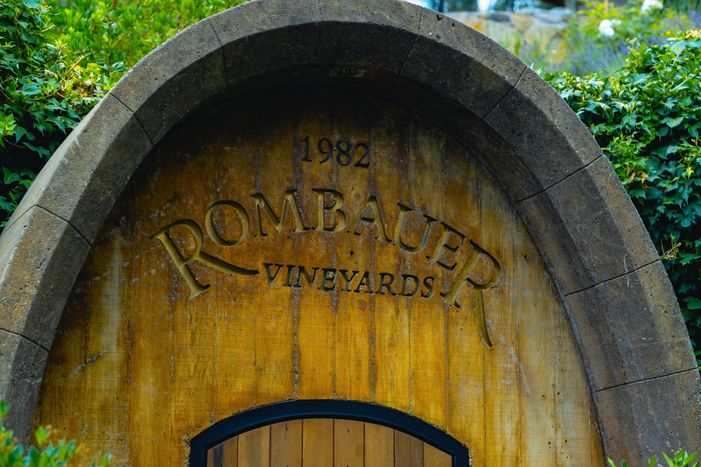 Final Thoughts
In conclusion, Rombauer Chardonnay is a yummy wine that truly deserves its reputation as one of the best Chardonnays in the world. With its rich flavors, creamy texture, and balanced acidity, it's no wonder that wine enthusiasts and critics alike continue to sing its praises.
My wife and I have been wineclub members at Rombauer for years and always make sure to have plenty of the Carneros Chardonnay on hand. If you love the Carneros Chardonnay, you need to try some of their single vineyard Chardonnay options, they are also fantastic!
Whether you're a seasoned wine connoisseur or just looking for a delicious bottle to enjoy with friends, Rombauer Chardonnay is a wine that won't disappoint.